Holiday Time: Quality Over Quantity
I've been giving a lot of thought about how I'm going to approach the holiday season this year, and I'm rooted in a frugally festive theme. Rather than inundating my loved ones with more 'things', I'm honing my gift giving down to truly thoughtful, useful, sustainable and locally sourced items. Honestly, who needs more stuff?
When I think of my own wish list, all I really want is time. I want my favorite faces in my face so I can check teeth and pulses, making sure those I adore are ship-shape. Even if we only get around to touching base a few times a year, those moments are cherished more than anything packaged.
One of my favorite ways to make the most of the holiday season is to schedule short lunch or happy hour get-togethers with friends, or, if time allows, go all in with a full day of retail dominance followed by an indulgent lunch or dinner out. You don't have to slog through your holiday chores alone, or attend every holiday party you've been invited to in order to see all your priority people. Create little pocket moments wherever and whenever you can, and suffer the slings and arrows of the holiday season in good company.
Your knee-jerk holiday shopping destination is probably The Mall. Doesn't matter which mall, the thought of going to the mall this time of year is enough to make Scrooge content with the Ghost of Christmas Future's vision should he neglect to change his ways. I say skip it, the Route One corridor between Bath and Wiscasset is a goldmine of locally owned shops, specialty foods stores and restaurants to explore.
Everything old is new again, so why not lean into the trend and think vintage? The Wiscasset Antiques Mall has over 13,000 square feet and three levels of treasure-stuffed rooms to get lost in. Popular this season: copper or brass anything, vinyl, oil lamps and everything rustic chic. Maybe your family isn't particularly sentimental and doesn't have much in the way of heirlooms to pass from generation to generation. No great, great, great grandmother's china set to hand down? No problem! Full sets of china, rare books, furniture, jewelry, even a long lost relative's portrait (no one needs to know that the guy in the picture isn't really your Great Uncle Cornelius posing with his hunting dogs). If you have a little patience and a keen eye, you'll find something to surprise and delight even the most hipster-centric of all your nephews.
Reset and refresh up the road a piece with coffee and a sweet or savory snack from Treats in Wiscasset. Treats is a specialty foods store with a distinct Italian flair. Browse their selection of locally made artisanal foods, imported pantry items, cookbooks and kitchen tools. If company is coming this month, order up some of their incredible pastries to serve at your own holiday event (or on Christmas morning!). If you're really looking to impress and you've got deep pockets, you can even give the gift of an extravagant foodie experience in the form of a trip to Italy in 2020 with Treats owner Stacy Linekin.
Only a few steps away from Treats, you can wander into Rock Paper Scissors or BIRCH for all things home decor and gifty. Rock Paper Scissors is the place to find a creative tool for your artsy friend or family member, the sweetest gifts for the newest bundle of joy in your life, or hand-crafted jewelry from Maine artisans for the boho sophisticate in your life who can be impossible to shop for.
BIRCH is a home goods store at heart, with the soul of your favorite gift shop sprinkled in. This is your one stop shop for all the holiday hosts and hostesses on your list. Cute placemats, seasonal decor, table wares and all things home entertaining, but with a whimsical and locally made twist.
On your way home, stop into Bath Brewing Company for a pint and a bite. Bath Brewing has eight brews on tap, ranging from a one-and-done Upper Hell Gate NEIPA (8.25% abv) that will numb away all the pain of holiday spending; to a cold, yet cozy Milk Stout ( 5.1% abv) that reminds me of a saying they have in Ireland, "You should never eat on an empty stomach.". Bath Brewing's menu is inspired by the coast of Maine and her seasons, and features elevated yet familiar pub fare. On top of having a killer menu and a great selection on tap, their merch is super cool, and you can't go wrong with a gift card.
My last thoughts for the holiday season and 2019 in general:
Keep things in perspective. Do the best you can with what you have, and have faith that the ones you love will be satisfied with time spent together. Be sensitive to the needs of the folks around you; check on your neighbors, make sure your sphere is taken care of. This isn't the most wonderful time of the year for everyone; be mindful and try to make as many people feel included as possible. Look for unlikely ways to make a difference: Make eye contact with a stranger, offer to help, smile at someone. Tiny acts of kindness ripple out, and kindness matters above all else.
---
About the Author: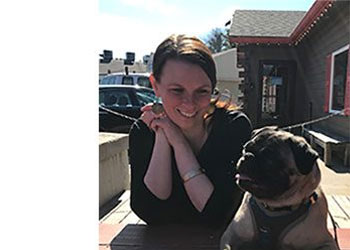 Chandra Thoits is a born and raised Mainer who loves the smell of low tide, but hates the smell of ketchup. She wants to know three things about everyone she meets: What/where do you like to eat, do you need help with anything, can she pat your dog?